Demiurge - New Stencil Paintings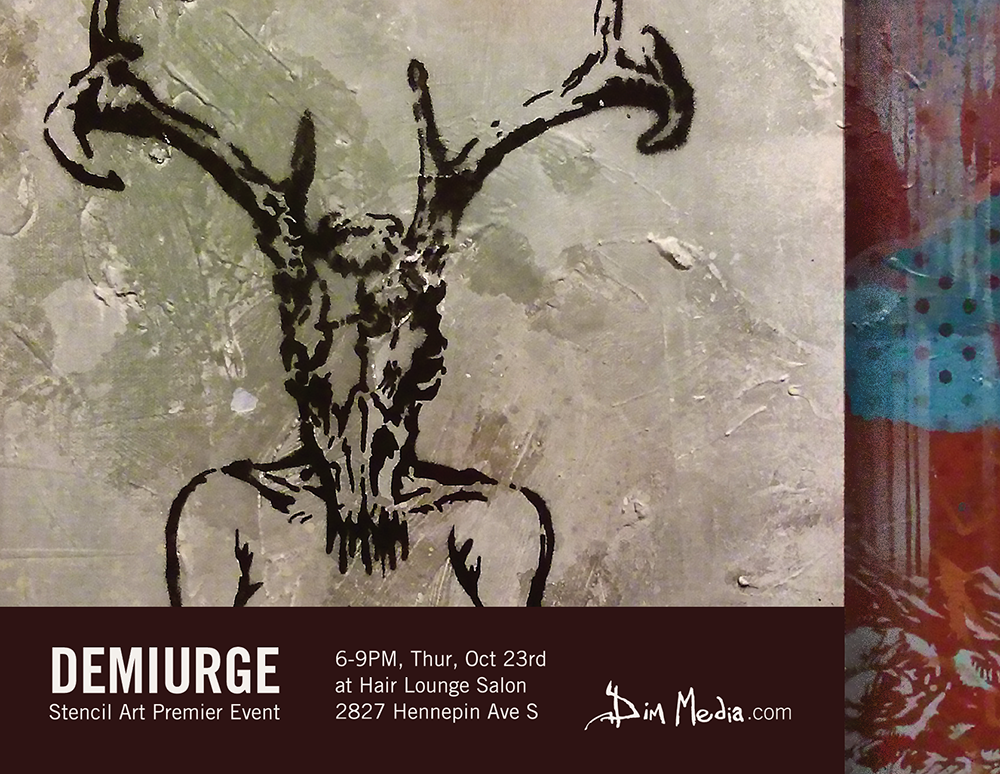 Dim unveils its latest stencil painting series "Demiurge" Thursday Oct 23rd.
Come to the opening reception Oct 23rd to mingle and meet the artists.
Thu October 23rd - Tue December 30th (On Display)
Hair Lounge - 2827 Hennepin Ave S, Minneapolis
"Minneapolis - Collaborative artists Dim Media bring together three years of non-stop experimentation in their latest stencil series "Demiurge" - premiering October 23rd at Hair Lounge in Uptown.
Dim's first experimentation with stencil techniques resulted in the 2011 series "Corrosion Maintained" which premiered at Tarnish & Gold Gallery in December of that year. Since then, Dim has been studying a variety of stencil techniques and concepts through their token collaborative principals. Combined with their latest design, illustration, and painting techniques, "Demiurge" is the pinnacle of evolution for the emerging artist group.
A public reception will be on Thursday October 23rd from 6PM to 9PM. The series will be on display during normal business hours through December 30th. All paintings are 20 x 20" on canvas and framed. Artwork may be purchased at the reception or through Dim Media's website http://www.dimmedia.com "
Dim Media is a Minneapolis based experimental arts group focusing on collaborative processes. Their body of work includes abstract paintings, complex stencil artwork, and illustrated novels.
Artists' website: http://www.dimmedia.com/
Hair Lounge Salon is locally-owned and unparalleled in the Uptown area of Minneapolis. Stop by and meet Independent Hair Artists who personalize each experience.
Salon website: http://hairloungeminneapolis.com/
Press Release Details
Related Links
Hair Lounge
View Larger Map